'Christians' will once again be observing a SUNrise service in front of the Washington Monument, which is an obelisk. It represents the SUN god Ra. It represents SUN worship. It ultimately represents Satan.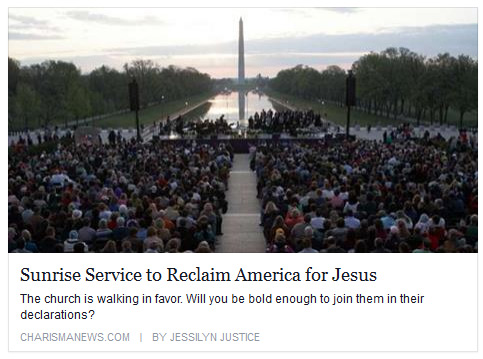 Christians have been conditioned to observe a holiday that is based on the pagan worship of the goddess Ishtar, the fertility goddess. Think bunnies and eggs.
And to make it worse, they are doing it in front of an obelisk, which is a phallic symbol.
Easter was created by the Popes of the Roman Church. They did this to replace God's Holy Feast Day of Passover, the day that the Messiah died to pay for our sins; and the Holy Feast Day of First Fruits, when Messiah's resurrection was the first fruits of the righteous.
"In vain do they worship me, teaching as doctrines the commandments of men. You leave the commandment of God and hold to the tradition of men." Mark 7:6-9
The Church of Rome is the antichrist Beast of Revelation.  They don't want people to follow God's Holy Feast Day's, which tell the whole story of our Messiah's redemption of mankind.
Christians are going to have a lot of explaining to do on judgment day.
Related Study: The Holy Feast Days Of God Deception