Christianity Beliefs Study Guides
End Times Deceptions Studies
Antichrist Deceptions
The Antichrist Is Hidden In Plain Sight
The Beasts of Daniel and Revelation
Antichrist In The Temple Deception
Bible Deceptions
Modern Bible Deception Verse Study
Satan's Corrupted Bible Manuscripts
Catholic Church Deceptions
Killing The Two Witnesses Of Revelation 11
Pope's Proclaim That Salvation Is Only Through The Roman Catholic Church
What The Bible Says About The Roman Catholic Church And The Pope
Daniel Prophecy Deceptions
70 Weeks Of Daniel Deception
Israel Deceptions
Jews Who Are Not Jews
Regathering Of The Jews Deception
Torah Jews Believe That The State Of Israel Is Illegitimate
Prophecy Deceptions
Abomination Of Desolation Deception
Daniel 12 Is Not About The Antichrist Or The End Times
No One Knows The Day And Hour Of Jesus Return
Rapture Deceptions
The Pretribulation Rapture Myth
Revelation Deceptions
The Fuel Project Guide To Revelations
The Seven Churches of Revelation
The Little Book of Revelation 10
The Two Witnesses of Revelation 11
Tribulation Deceptions
70 Weeks Of Daniel Antichrist and 7 Year Tribulation Are NOT Biblical!
---
Israel In Prophecy Video Series
For all who desire to understand the final days, bestselling author and speaker Steve Wohlberg presents this 5-part video series, which is excellent for personal and small group study.
You will discover the New Testament distinction between "Israel after the flesh" (1 Corinthians 10:18) and the "Israel of God" (Galatians 6:14-16) centered in Jesus Christ.
You will also gain vital insights into what the book of Revelation really says about Mount Zion, the New Jerusalem, the Heavenly Temple, Babylon the Great and Armageddon.
This study is simple, Biblical, inspiring and Christ-centered.  Click here to watch Israel In Prophecy
---
.
End Time Delusions Video Series
Steve Wohlberg teaches about the Rapture, Tribulation, Antichrist, Israel, in this end time Bible study.
Will Christians vanish in a rapture?
Will 7 years of apocalyptic terror overtake those left behind?
Will one Diabolical antichrist rise to control the world?
Will he enter a rebuilt Jewish temple, claiming to be God?
Will Earth's nations attack Israel at Armageddon?
Best-selling books like Left Behind and popular apocalyptic movies predict such things. Are they correct?
No area of Christianity has been subject to more misguided interpretation than prophecy. Millions of Christians sense we are nearing Jesus Christ's return. Yet when it comes to what the majority thinks will happen during Earth's last days, and what the Bible actually says will occur, the difference is seismic.
With clarity and biblical accuracy, End Time Delusions from Steve Wohlberg exposes massive errors now flooding through media and in much of today's sensational prophecy writing.
These videos closely examine tightly meshed yet speculative theories about the rapture, seven-year tribulation, antichrist, and the modern Jewish state. Buttressed with solid teachings from many of Christianity's most illustrious scholars, it lets the Bible speak for itself about the past, present, and future.
~ Rapture Delusions
~ Tribulation Delusions
~ Antichrist Delusions
~ Israel Delusions
.
---
.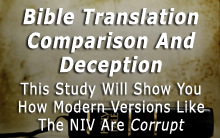 This study on the most accurate bible translation will show how modernized versions of the Bible like the
NIV have verses that have been changed to:
Deny that Jesus is God; deny the virgin birth; remove that our redemption is through Jesus blood; deny that Jesus is our judge; and remove the trinity of God.
So they do much more than make the Bible easier to read, they change the truths of God, which is deception.  Click on most accurate bible translation
---
.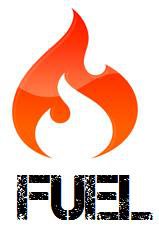 The Fuel Project "Know Your Enemy" video series explores the coming New World Order from a Biblical perspective. It will give you a Christianity history timeline to help you know how God and Satan work, so that you can discern what is truth and what is deception.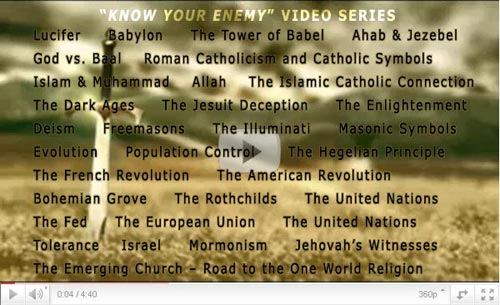 ---
Roman Catholic Beliefs
Providing answers to Roman Catholic beliefs in the grace and truth of Jesus.
Martin Luther declared "We here are of the conviction that the papacy is the seat of the true and real Antichrist."
John Calvin said "Some persons think us too severe and censorious when we call the Roman pontiff Antichrist. "
Watch these important videos on Roman Catholic beliefs
---
.

The 23rd Psalm is broken down into intimate detail in this series of "Enough: God's Care for My Restless Heart" videos by Pastor Matt Heard of Woodmen Valley Church in Colorado Springs, CO.  Watch the video messages on The 23rd Psalm.
ff.
---
The Book Of Mormon vs. The Bible



This video series provides an in-depth study of Latter Day Saints historical evidence, and also discusses whether Joseph Smith was a true Prophet?  Click here for the The Book of Mormon vs. The Bible videos