I saw a video from Jonathan Cahn on the Facebook timeline called "The Altar of the Dark Angel," so I watched it out of interest.
He points to an image on the Muslim Dome of the Rock, which was created when two slabs of marble that had been cut from the same place, were mounted side by side, to create a mirrored effect, which he says looks like the face of Satan.
The point of this review is not about the image per se, but about his statements about the Dome of the Rock.
He says that the Muslim Dome of the Rock is an object of defiance on the Temple Mount.  He says that it defies the will of God.
Last time I checked God had the Roman army desolate the temple in 70 A.D., so that was the will of God.
He says that the Temple Mount is the dwelling place of God, but that is not true.  The Temple of God is the body of believers, the Church of Christ.
"Do you not know that you are the temple of God and that the Spirit of God dwells in you? If anyone defiles the temple of God, God will destroy him. For the temple of God is holy, which temple you are." 1 Corinthians 3:16-17
"Now, therefore, you are no longer strangers and foreigners, but fellow citizens with the saints and members of the household of God, having been built on the foundation of the apostles and prophets, Jesus Christ Himself being the chief corner stone, in whom the whole building, being joined together, grows into a holy temple in the Lord, in whom you also are being built together for a dwelling place of God in the Spirit." Ephesians 2:19-22
He says that most likely the Dome of the Rock is over the Holy of Holies.
But that is wrong, and Jonathan Cahn, a Jewish scholar, should know that.  The temple sat off to the side, and the place that is now mistakenly called the Temple Mount, was actually the Roman Antonia Fortress, which overlooked the temple.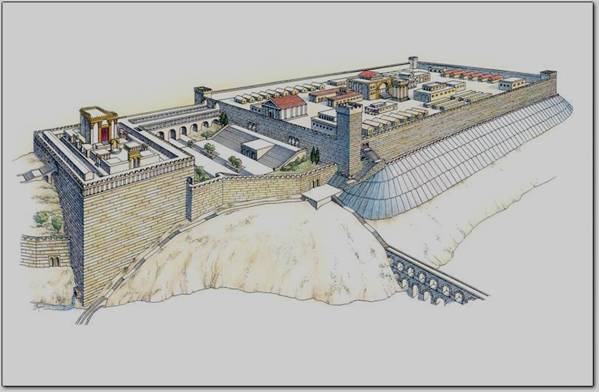 Here is an overhead view of where the Temple Mount was, which shows that the place of the Dome of the Rock is where the Roman Antonio Fortress was located, and the Wailing Wall is not part of the old temple, as so many people mistakenly teach.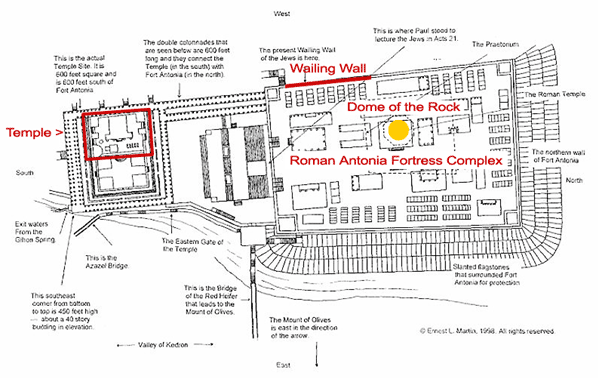 Here is a picture of how the city looks now, where you can see that there is no stone left on top of one another, where the temple used to sit in the red-shaded area, fulfilling Christ's words.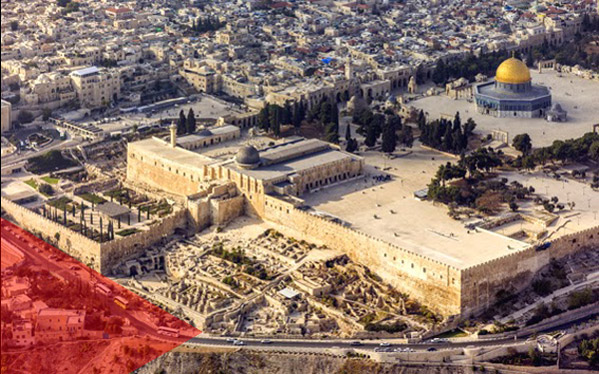 Wake up Church! Jonathan Cahn is deceiving you.